Apple (AAPL) stock has produced extraordinary returns for investors over the long term. Shares of the iPhone maker have gained nearly 780% in the past decade on the back of spectacular financial performance from the company.

However, at current prices Apple is the biggest corporation on Earth, with a gargantuan market capitalization of more than $900 billion. The smartphone industry is maturing, and growth tends to naturally slow down as a company gains size over time.
This raises an important question for investors: Is it too late to buy Apple stock or does it still offer attractive potential for returns going forward?
Valuation Reflects Reasonable Expectations
When trying to understand what Apple has to offer to investors at current prices, it makes sense to think in terms of valuation, embedded expectations, and the company's ability to meet or exceed such expectations.
At the end of the day, valuations reflect market expectations about the future of a business. When a stock is priced at moderate levels, this means that expectations are quite reasonable for the company. If the business can exceed those expectations, this usually means above-average returns for investors in such company. Conversely, even the best high-growth companies can turn out to be mediocre investments when valuations and expectations are unrealistically high.
Apple is currently trading at price to earnings ratio around 19. This is a discount versus a price to earnings ratio of 22 for the average company in the S&P 500 index. Based on earnings expectations for next year, the forward price to earnings for Apple stands at 14.5 in comparison to nearly 21 for companies in the S&P 500.
We can easily make the case that Apple is superior to the average stock in the S&P 500 when looking at variables such as business profitability and financial quality, so the stock looks conveniently priced when considering both fundamentals and valuation.
Offering a similar perspective, the following table compares valuation ratios for Apple versus other top players in the tech industry, such as Alphabet (GOOG) (GOOGL), Facebook (FB), and Microsoft (MSFT). The numbers are quite clear, and Apple is significantly cheaper than its peers across all of the indicators in the table – price to earnings, forward price to earnings, price to sales, and price to free cash flows.

| | | | | |
| --- | --- | --- | --- | --- |
| | PE | Fwd. PE | PS | PFCF |
| Apple | 19 | 14.5 | 3.9 | 17.9 |
| Alphabet | 35.6 | 25.2 | 6.9 | 29.7 |
| Facebook | 33.3 | 26.7 | 12.3 | 33.1 |
| Microsoft | 28.4 | 22.7 | 6.9 | 32 |
Companies such as Apple, Alphabet, Facebook and Microsoft are quite unique, so comparisons can be tricky. Nevertheless, it's hard to argue on the fact that Apple is fairly attractively valued, both in comparison to the average stock in the market and to other big and successful tech corporations.
One more thing, Apple is sitting on top of a mountain of cash. The company has nearly $270 billion in cash and marketable securities on its balance sheet. This means that nearly 30% of the company's market value is currently supported by cash reserves alone, which makes valuation even more compelling.
Accelerating growth
Apple reported both sales and earnings figures above Wall Street expectations during the quarter ended in September, meaning the fourth quarter of fiscal year 2017 for the company. Total revenue came in at 52.6 billion, a 12% increase versus the same quarter in the prior year.
Importantly, Apple is delivering accelerating revenue growth in the last five consecutive quarters, and this is great news for investors in the company.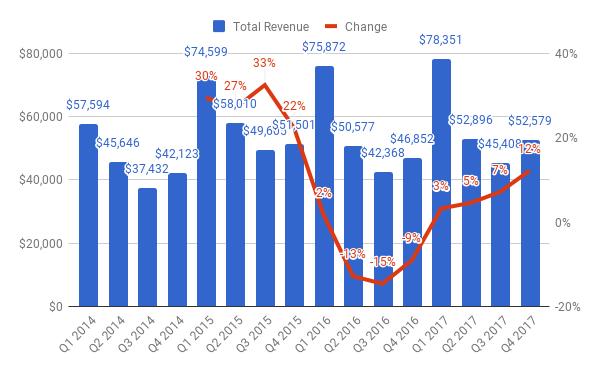 Data source: SEC filings.
Profit margins also are expanding, so earnings are growing at a faster rate than revenue. Operating income grew 14% year-over-year last quarter. Since the company is aggressively reducing the share count via buybacks, this allows Apple to produce earnings per share growth in excess of net income growth. All said and done, the company announced a vigorous increase of 24% in earnings per share last quarter.
Moving forward, it's good to know that Apple doesn't need to reinvent the wheel with every new iPhone model in order to drive revenue growth in this key segment. Besides, the services division looks like a particularly promising growth driver in the years ahead.
Apple generated $8.5 billion in revenue from services last quarter, an explosive increase of 35% vs. the same quarter a year ago. Just to make an illustrative comparison, Netflix (NFLX) generated $2.98 billion in revenue last quarter, growing by 30.3% year over year. In a nutshell, Apple's services business is much bigger than Netflix, and it's also growing at a faster rate.
The services business does not depend much on product sales in a particular quarter, the size of the installed base is much more important for this division. This should allow Apple to generate both higher growth rates and more predictable recurring revenue from services in the years ahead. Apple does not disclose profit margins for different segments, but it makes a lot of sense to assume that services typically generate higher profitability than hardware sales.
The company also is making big bets on powerful technologies such as augmented reality and machine learning. According to CEO Tim Cook, the launch of iOS 11 made iOS the world's largest platform for AR, and there are more than 1,000 apps with AR features in the App Store nowadays.
Developers are also leveraging on iOS 11 to integrate Machine Learning models into their apps with Core ML. In the words of Tim Cook:

"Pinterest is already using Core ML to deliver fast and powerful visual search. PadMapper uses Core ML to provide intelligent features that make it easy to find or rent your apartment. And VisualDx is even pioneering new health diagnostics with Core ML, automating skin image analysis to assist dermatologists with their diagnoses. These are just a few examples. There's so much more to come."
When thinking about risk factors there are multiple variables to consider, and product concentration is particularly relevant. The company makes nearly two thirds of revenue from the iPhone, if Apple makes a serious mistake in this product, or the competition manages to steal customers away from Apple, then this would be a major negative for the stock. Apple operates in a remarkably dynamic and competitive industry, so investors need to watch the competitive landscape closely, especially in smartphones.
That said, considering valuation and the company's ability to deliver results, Apple still looks like an attractive investment in terms of risk versus potential rewards over the years ahead.