For the first time in over a year, our two more aggressive model portfolios include allocations to U.S. small and mid-cap ETFs. We still project better returns for U.S. large-cap stocks, but the recent run in foreign developed and emerging market equities has shaved off future return potential for those sectors and improved the diversification benefit of smaller-cap U.S. stocks. If the rally in global equity continues to compress the returns offered vs. U.S. stocks we would expect our average risk tolerance portfolio and perhaps even our more conservative model portfolios to eventually include U.S. smaller cap holdings as well.

But the world's biggest cap company, Apple (AAPL), still merits a place in investor portfolios – either directly or via a market-weighted fund. Our latest earnings model for AAPL pegs fair value at $182. As with all of our analyses, we take a long view of the fundamentals. Our valuation incorporates a quickly maturing hardware business bolstered by a still fast-growing services segment. However, we estimate that the services businesses in aggregate have a much lower profit margin than hardware sales. AAPL doesn't disclose gross profit by segment, but based upon comparable margins and hardware product pricing we estimate that the services segment gross profit margin is in the low to mid teens. This is well below what some analysts have projected. Perhaps the accounting for Apple's revenue share for items like app store sales enable higher reported margins, but these services businesses are primarily a) dependent upon content produced by third parties (e.g., music, apps, video), or b) a commodity (e.g., cloud storage, payments). Apple has proven that customers will pay a premium price for their devices, but we think the idea that they will pay a premium on content and applications for the privilege of consuming these through AAPL is a bridge too far. And the gross margin trend over the past two years pokes a hole in the thesis that growth in services will drive gross margin expansion.

AAPL's Gross Margin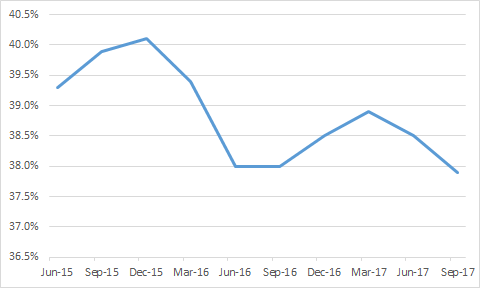 Source: company public filings.

We forecast that AAPL will see operating and bottom line profit growth of just 1-1.5% annually over the longer term as faster growth in services causes modest margin compression. Nevertheless, given an estimated cost of equity capital of 6.8% for U.S. large-cap cyclical stocks (including 2% for inflation), AAPL's operations are worth an estimated $154 per share. And recent tax reform bills suggest repatriation rates for companies with hoards of overseas cash will be quite favorable – our model now assumes a 12% tax rate on foreign cash and securities. Adding cash worth $27 per share gets us to a fair value of $182 for AAPL. Incredibly, we estimate that shares are at worst fairly priced despite a recent stock rally driven by dubious expectations of sustained revenue growth acceleration.

AAPL Model Key Assumptions:
| | |
| --- | --- |
| revenue growth: | 2-3% |
| ebit growth: | 1-1.5% |
| cost of equity capital: | 6.8% |
| effective tax rate on earnings: | 25.5% |
| tax rate on foreign cash: | 12% |
| | |
| PV of operations per share | 154 |
| PV of net cash per share | 27 |
| Value per AAPL share | 182 |
Source: ArcPoint Advisor.
Long-term Asset Allocation Outlook
The overall risk profiles of our model portfolios are flat or slightly lower m/m as equity risk premia declined across the board. Allocation changes varied m/m depending upon the level of risk tolerance targeted. However, most portfolios saw a second straight month of reductions in foreign developed stock holdings as higher stock prices combined with a slightly weaker earnings forecast (in U.S. dollars) to dampen prospective returns for that group.
Fixed income maturities have been lengthened for all but the most conservative model portfolio. In addition, slightly greater credit risk has been assumed in most model portfolios. Most of this shift is attributable to the declining attraction of equity as our outlook for fixed income is little changed apart from slightly higher estimated credit risk premia for corporate bonds.

Our optimal portfolio for an investor with average risk tolerance includes a 55% allocation to equity, down 2 percentage points m/m. Non-cyclical equity exposure is down 2 points m/m, while cyclical equity exposure is unchanged. This shift seems counterintuitive given that most of the rally in U.S. equity prices came from cyclical sectors in October. However, recent price movements in foreign stocks have been more uniform and the reduction in the prospective foreign developed non-cyclical equity return is higher in percentage terms than return outlook changes for U.S. equity.

Short-term bond holdings for the investor with average risk tolerance are unchanged, but exposure to intermediate and long-term bonds is 3 points higher. TIPS holdings declined by one point.

Optimal Long-term Asset Allocation for Investor with Average Risk Tolerance

Source: arcpointadvisor.com

Long-Term Equity Market Return Outlook:

Projected Long-Run Annual Real Returns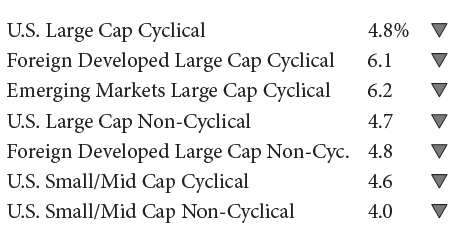 Source: arcpointadvisor.com
Projected U.S. large-cap equity returns are lower following another 2% return for the S&P 500 in October. Information technology stocks surged 7% and financials added another 3% to drive most of the gains for the index.

Our forecast for U.S. large-cap equity returns implies average annual mid-cycle earnings of ~$123 for the S&P 500 index companies, unchanged from our prior estimate. This earnings outlook compares to the consensus bottoms-up forecast of ~$138 over the next four quarters for S&P 500 earnings.

The gap between the projected returns of cyclical and non-cyclical U.S. large cap equity is a scant 10 bp for a second straight month. The last time this gap was less than 20 bp was in the wake of a sharp surge in U.S. stock prices in early 2014.

Difference Between Projected Cyclical and Non-cyclical Equity Returns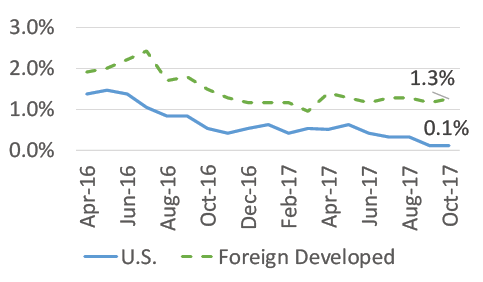 Source: arcpointadvisor.com

The Russell 2000 was up 1% in October, driving slightly lower projected returns m/m for U.S. small and mid-cap equity.

We have included U.S. small and mid-cap funds in our most aggressive model portfolios for the first time since October 2016 as lower projected returns in foreign developed and emerging market equity have boosted the relative diversification benefit of smaller cap U.S. stocks.

The projected return for foreign developed large-cap equity is lower m/m as higher stock prices (the MSCI EAFE Index was up 1.5% in October) are coupled with lower forecast earnings. The earnings outlook deteriorated due to a 2% weakening of the euro against the U.S. dollar.

The estimated 120 bp premium offered by foreign-developed cyclical equity over U.S. cyclical equity is above the average of 85 bp over the past five years. Our model portfolios continue to favor foreign developed over U.S. cyclical equity, though foreign developed equity holdings have declined in recent months.

The return outlook for emerging markets large-cap cyclical equity is lower m/m following a 3.5% gain for the MSCI Emerging Markets Index in October. The 130 bp return premium offered by emerging markets over U.S. equity is below the three-year average of 170 bp, and the 10 bp return premium over foreign-developed cyclical equity is now well below the three-year average of 80 bp.
Cyclical Large-Cap Equity Premia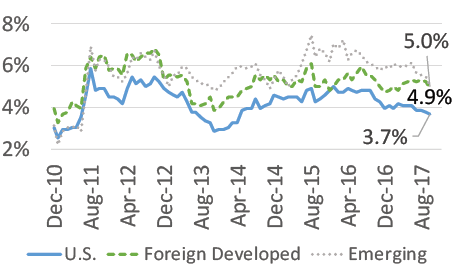 Source: arcpointadvisor.com
Long-Term Fixed Income Market Return Outlook:

Projected Long-Run Annual Real Returns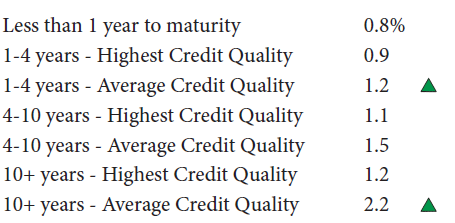 Source: arcpointadvisor.com

Projected real fixed income returns are little changed m/m as the forward U.S. TIP curve has held steady. Our estimate of credit risk premia has ticked higher, boosting expected returns for corporate paper slightly.

The estimated real term premium offered for 10-year U.S. Treasury (UST) bonds is down 5 bp m/m. A 10-year UST note purchased in five years offers 26 bp of additional return over a 52-week UST bill. This level is below the 10-year average real term premium of 56 bp.

Risk Free Real Term Premium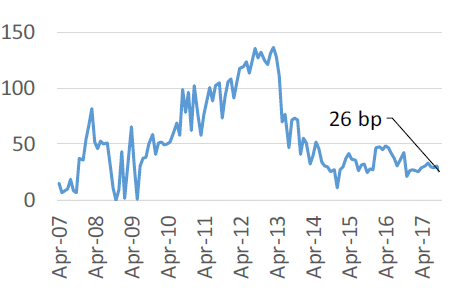 Source: arcpointadvisor.com

The estimated inflation risk premium is 3 bp lower m/m for a 15-year bond. The inflation premium remains below 20 bp for the 25th consecutive month as bond markets continue to imply a significant possibility of disinflation.

Inflation Term Premium (15-Yr. Bond)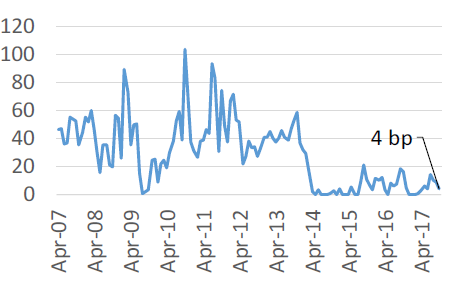 Source: arcpointadvisor.com

We estimate that investors in investment grade corporate bonds are receiving ~8 bp of return for every year to maturity as compensation for credit risk, up 1 bp from a month ago. The current credit risk premium is above the five-year average of 5 bp for every year to maturity.

Credit Risk Premium Per Year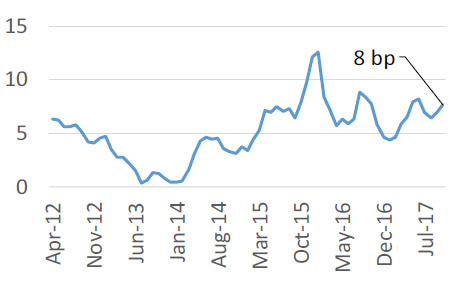 Source: arcpointadvisor.com
Disclosure: I/we have no positions in any stocks mentioned, and no plans to initiate any positions within the next 72 hours.
I wrote this article myself, and it expresses my own opinions. I am not receiving compensation for it (other than from Seeking Alpha). I have no business relationship with any company whose stock is mentioned in this article.